10-23-2014
Our Investment In Ello
by Seth Levine
We're pleased to announce that we've co-led (along with Techstars' Bullet Time Ventures and with participation from FreshTracks Capital) a Series A financing for Ello, a new and disruptive social network. Based in Burlington, Vermont and founded and run by our long time friend Paul Budnitz, Ello is basing their business on a fundamentally different premise than other social networks – specifically eschewing building a business that is reliant on third-party advertising or the selling of user data.
We're strong supporters of the Ello team's unique vision for the business. Along with the founders of the company, as well as their other investors, we have signed and support the Ello Charter that you see below (click on the image to open it in another window to enlarge it).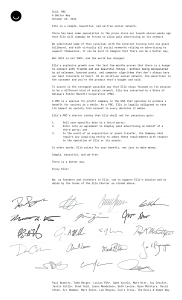 It's important that we state this clearly, since there are bound to be people who view this financing with skepticism. Foundry Group is completely supportive of the Ello mission. We'll either build a business that doesn't rely on third party advertising or the selling of user data or we won't build a business. Our belief is that there are products and features that Ello can develop that users will be willing to pay for. While the price points may be low, as part of a much larger ecosystem with millions of users, will provide an economic model for the company which supports the business and our investment.
While Ello has of late received a lot of press and attention, we've actually been following the company since its inception because of our relationship with Ello co-founder Paul Budnitz. Paul has a unique relationship with Foundry – he's the only founder we've ever had an agreed upon term sheet with that decided not to close on our investment. This was for a business idea prior to Ello when Paul lived in Boulder. To Paul's credit as we were in the final stages of documenting the investment he realized that several key business level items weren't coming into place and, after consulting with us about his concerns, he decided that the timing wasn't right for him to pursue his idea. We parted ways but remained friends as Paul moved from Boulder to Vermont, pursued his passion for bicycle design (the four of us each own some of the earliest production models of Budnitz bikes) and eventually started Ello.
So welcome Paul and team to the Foundry portfolio. We're excited to have you as part of the family! And if you're on Ello, please connect with us: @sether, @bfeld, @jasonmendelson, and @ryanmc.