05-19-2016
Foundry Group is now a Certified B Corp!
by Seth Levine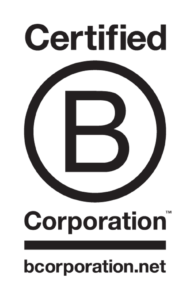 Foundry Group has always focused on community. From our work across all manner of community organizations, to bringing key industry conferences to our home town of Boulder, to supporting entrepreneurs, we've always looked for ways to engage productively in the markets we work in.
We're firm believers in doing more than just talking. We are founders and major supporters of Pledge 1% and The Entrepreneurs Foundation of Colorado and have watched them grow into nationally – now internationally – acclaimed organizations.
But we wanted to do more to align the Foundry brand with our commitment to give back to the communities in which we live and work. To really put a stake in the ground about what Foundry stands for.
It is with great pride that we announce that Foundry Group has achieved B Corp Certification through B Lab®.
Certified B Corps are for-profit companies certified by the nonprofit B Lab® to meet rigorous standards of social and environmental performance, accountability, and transparency. Certified B Corps pledge to not only focus on their bottom line but also on the community at large.
We are also excited that two fellow Colorado venture firms – Colorado Impact Fund and Greenmont Capital Partners – are announcing their B-certifications alongside us. We hope this sends a message to the broader industry that we can all do well by doing good and encourage others in the industry to make the leap to Certified B Corporations®.
We will join 75 other Certified B Corps in Colorado and over 1,700 in nearly 50 countries around the world including well-known leaders New Belgium Brewing, Patagonia, Seventh Generation, Ben & Jerry's, Kickstarter, Etsy, Warby Parker and Hootsuite.
We also join notable tech B Corps in Colorado such as Rally Software (the first ever B Corp to go public with that certification), Namaste Solar, Simple Energy, and dojo4.
We believe that a group of people acting together towards a common goal can have a far greater impact than when they act alone. With this in mind we challenge everyone reading this to consider joining us in the B Corp movement. #BtheChange