06-12-2018
Foundry Group – Best for the World for Workers
by Foundry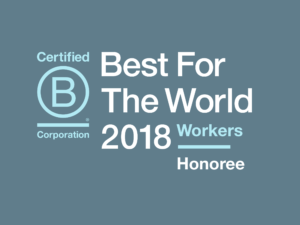 Today, Foundry Group was recognized for creating the most positive impact for our workers based on an independent, comprehensive assessment administered by the nonprofit B Lab. Honorees are featured on B the Change, the digital Medium publication produced by B Lab, at bthechange.com/bestfortheworld.
Foundry Group announced its' certification as a B Corp over two years ago – B Corps are for-profit companies certified by the nonprofit B Lab to meet rigorous standards of social and environmental performance, accountability, and transparency measured by the B Impact Assessment (BIA). We joined a growing community of more than 2,400+ Certified B Corps from 50+ countries and over 130+ industries working together toward one unifying goal: to redefine success in business
The Best For Workers list includes businesses that earned a Workers score in the top 10 percent of more than 2,400 Certified B Corporations on the B Impact Assessment. The assessment measures a company's impact on its workers, community, customers and the environment.
On an operational level, we have always sought to treat our team members, community, and the planet with respect and thoughtfulness. Engaging in the B Corp certification process provides us with the opportunity to quantify these things through the B Impact Assessment. Our team members are a big part of this and integral to our success as a firm. We were thrilled to learn we were being honored by B Lab for how we treat our team members.
The 185 Best For Workers companies come from 58 different industries and 20 countries. B Lab simultaneously released separate lists recognizing B Corporations as Best For The World Overall impact, Best For Environment, Best For Customers, Best For Governance and Best For Community, which can be found at bthechange.com/bestfortheworld. In the fall, B Lab will release the Best For The World: Changemakers and the Best For The World: Funds lists.
---
B Lab is a nonprofit organization that serves a global movement of people using business as a force for good. Its vision is that one day all companies compete not only to be the best in the world, but the best for the world and society will enjoy prosperity for all for the long term.
B Lab drives this systemic change by: 1) building a community of Certified B Corporations to make it easier for all of us to tell the difference between "good companies" and good marketing; 2) passing benefit corporation legislation to give business leaders the freedom to create value for society as well as shareholders; 3) helping businesses measure, compare and improve their social and environmental performance with the free B Impact Assessment; 4) driving capital to impact investments through use of its B Analytics and GIIRS Ratings platform.
For more information, visit http://www.bcorporation.net.
B the Change is a Medium publication, produced by B Lab in collaboration with the community of Certified B Corps and the movement of people using business as a force for good.
B the Change exists to inform and inspire people who have a passion for using business as a force for good in the world. Because we believe that storytelling is an essential element in the transformation of business and society, we commit ourselves to telling the most compelling stories possible to the largest audiences possible to propel the movement of business toward its destiny as a powerful force for good. We want to dramatically broaden and deepen engagement with entrepreneurs, managers, employees, investors and citizens in one of the most important discussions of our time.
Read all B the Change stories at http://www.bthechange.com.