01-07-2019
Our Investment in Tidelift
by Brad Feld
We are pleased to announce that Foundry Group has co-led a Series B investment in Tidelift.
Based in Boston, MA, Tidelift is making open source work better—for everyone. Through the Tidelift Subscription, the company provides a single source for proactively maintained open source components and professional assurances around those components, powered by the open source creators who know them best.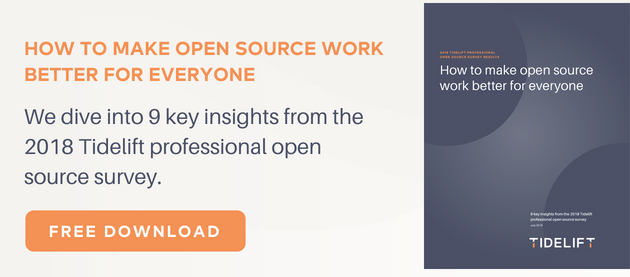 As we shared when we announced our participation in the Series A financing, Tidelift is a unique B2B spin on the marketplace model, addressing the critical needs of both those who make open source components and those who use them.

For open source creators and maintainers, many of whom aren't directly compensated for their substantial efforts, Tidelift provides the financial incentive to continue to do the hard work after the initial shine of creating a popular open source package wears off.

You've probably seen news about security exploits like Heartbleed, Equifax, or some of the other less known—but just as damaging—open source supply chain attacks. These situations are a direct illustration of what happens when development and maintenance of widely used open source packages are underfunded.

As open source continues to become more popular, these sorts of issues will become even more common. Meanwhile, software development teams also face a less obvious, but a perhaps more insidious crisis as their development progress is slowed by an increase in the amount of time they spend fighting technical debt and other code maintenance issues related to their open source dependencies.

When you think about the fact that open source software now forms the backbone of much of the world's technology infrastructure, working on a solution that benefits both the people who create open source software and those who use it is potentially transformational for the software industry.

We're excited to see the progress Tidelift has made and are glad to be a part of scaling this important work over the coming years.