07-27-2021
Our Investment in Dibbs
by Seth Levine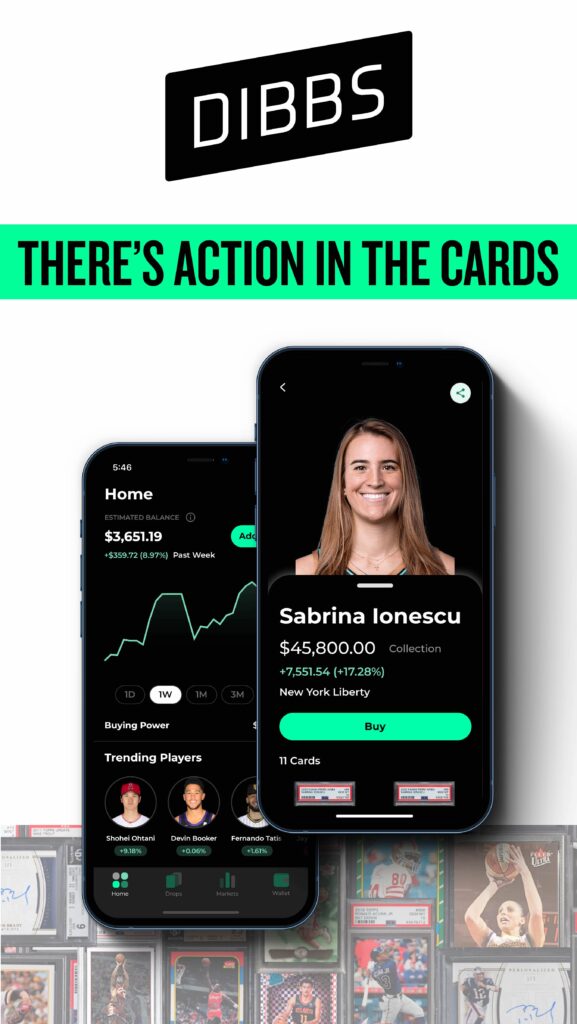 People like stuff. Objects hold deep meaning for us, and they provide us with a vehicle for connecting with others and building community. Manifestations of this that quickly come to mind are classic car clubs and vintage guitar forums on the internet. Many objects that capture people's imaginations have seen their value buoyed by the communities that surround them, so much so that many enthusiasts are no longer able to afford to participate by purchasing them. This is definitely true of sports cards, a nearly $14 billion dollar market worldwide. A 1909 T206 Honus Wagner card sold for over $3 million in 2016, and a Tom Brady rookie card sold for $1.3 million last spring. High price tags, even for the most avid (and wealthy) sport fans. Enter Dibbs.
Dibbs is democratizing access to the world's most collectible sports cards through tokenized, fractional ownership. Built on blockchain technology, Dibbs creates a non-fungible token (NFT) for each physical card on the platform, and allows users to collect fractional tokens representing partial ownership of the NFT. This allows collectors with virtually any budget to acquire cards previously inaccessible to them. Once a user accumulates 100% ownership of an NFT, they can take possession of the card at any time. Athlete-focused and fan-centric, Dibbs is an accessible and intuitive way for its users to build player collections for their favorite athletes. With easy-to-use mobile and web apps and real-time transaction capabilities, Dibbs is revolutionizing sports card collecting for both legacy collectors and a new generation just getting started.
Evan is a lifelong card enthusiast, and he has spent his career working with a variety of digital assets. After helping launch the WAX blockchain and partnering with iconic collectibles brand, Topps, he saw a tremendous opportunity to reinvent an archaic industry that was unnecessarily cumbersome on the data and cost side.
We appreciate Dibbs' scrappy sensibility and how their technology links the physical world to the digital. When our friend, Eric Paley, from our partner fund, Founder Collective, introduced us to the team with an eye toward us leading their Series A round, we were thrilled. Our friends at Courtside Ventures (with whom we are close as well) participated as well; it served as validation for our enthusiasm. And then when we found out that one of our portfolio CEOs, Will Ahmed, in addition to our Mobius colleague, Gary Rieschel, were also investors, we were convinced that our partnership with Dibbs was meant to be. This is a great example of how we like to leverage our extensive network of partner funds (and other friends of Foundry) to find great companies.
Dibbs' Series A was rounded out by Tusk Ventures and a syndicate of professional athletes including Chris Paul, DeAndre Hopkins, Kevin Love, Kris Bryant, and Skylar Diggins-Smith. We love to see their commitment to new ways to interact with their fans. You can read more about Dibbs here.